INCLUDED IN THIS NEWSLETTER:
• PREDICTIONS FOR 2017—PART 1
• MORE QUESTIONS FOR ANTURA
• MBOs FOR TRIP TO MT. IDA ARKANSAS
• MBO FOR THE PERFECT CAR
• SUPERSTITIOUS SHOE
• MORE ON ANNIE OAKLEY'S SOUL FRAGMENT
• ALBERT EINSTEIN
• SHUNGITE GOOD HEALING STONE?

Welcome to this edition of The Gentle Way Newsletter, and a special
welcome to all my new subscribers all over the world. If you wish to subscribe to this F.R.E.E. newsletter, go to http://TheGentleWayBook.com and then click on the link in the Blue Box on the right side of the Home page.

I hope you are enjoying these newsletters. Have you told your friends about them? And keep sending me your MBO stories. I need at least four to six each week for my Saturday Blog.

SPECIAL NOTES:

For my many new subscribers, you can go to my website and click on ARTICLES & NEWS where I have archived all my newsletters from 2007 onwards. I suggest that you start with the newest ones and work back. Don't forget that if you have questions you can email me. My Google search box on that page has disappeared, so if anyone knows how to put it back on, please contact me.

I did four shows with Dr. Simon Atkins recently. Here are some of the links:
http://tinyurl.com/j4qu4bd, about Atlantis & Lemuria. http://tinyurl.com/j8x48co is all about the FIRST CONTACT book. The week before -- http://tinyurl.com/zkatxdp. We discussed past and future lives, reincarnation, and much, much more! They are all video interviews we did on Skype.

The Roku TV channel had to go off the air when they lost their one editor due to medical problems. They have now posted the first episode of my series THE TELEPATHIC WORLD OF TOM T. MOORE on YouTube at http://tinyurl.com/glzbpox. Please keep in mind that this episode, at around 25
minutes, was a one-take for me and could have been more professional. The second episode has also now been posted on the Origin of The Gentle Way. http://tinyurl.com/hy8bcec.

And do you have any contacts with Metaphysical or UFO expo events that have featured speakers? There are so many, but most just have locals. Please let me know. The big ones need to be scheduled many months in advance.

LIKE ME: Have you "Liked" my "Tom T. Moore Author" Facebook page yet? I'm always posting something there, so "Like" me!

FIVE STAR REVIEWS

FIRST CONTACT: Yvette wrote: First Contact: Conversations with an ET was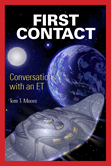 excellent. I could not put it down. Easy to read. Thought provoking. This book made me realise that ETs are not something to be frightened of. I am now looking forward to the future. I am also looking forward to Tom T. Moore's next book.

ATLANTIS & LEMURIA: Donna writes: Tom Moore has done it again. If you only read one book on the subject - this is it. He is one of the most informative and brilliant new age authors of our time. He has the factual knowledge of Atlantis and Lemuria and has finally uncovered so many questions that have lingered for centuries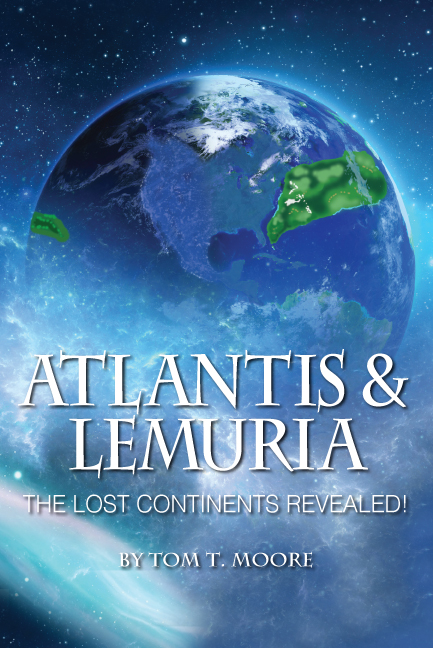 concerning the true events of these ancient countries and inhabitants.

Tom's style is captivating and you will have a hard time putting it down. I have finished it, but will reread it again since it has so much information to be remembered. He has also written other books: First Contact and the Gentle Way series that are must reads. After you read these books, you will experience a new positive and uplifting life because you "know" why you are here. Do yourself a favor and get these books, expand your mind and be comforted in knowing you are here for a solid reason and at a time when you get to be in the presence of Tom, Theo and Gaia!

I was asked where to go to write the reviews. The most popular place to go (they sell more books than anyone else) is www.amazon.com and then just enter the name of the book you wish to write a review about in the search book. Then click on "Reviews" and there will be a box that says "Write a review."

Would you PLEASE write a review for any of my books that you own on Amazon, Goodreads, or anywhere else you purchased the book? I would appreciate your support!! Given that I don't charge for these newsletters, this is one thing you can do for me.

My new book, "ATLANTIS & LEMURIA—The Lost Continents Revealed!"
has so much information that has NEVER BEEN PUBLISHED in any other book on the subject! Read the REAL history of two societies that existed for over 50,000 years each.

You can read SAMPLE CHAPTERS of all the books at http://www.thegentlewaybook.com/chapters.htm.

And a quick explanation for my new subscribers. Theo is my own Guardian Angel (GA) with whom I communicate in meditation, along with Gaia, the Soul of the Earth, and my soul "cluster" brother, Antura (and a few others). Generally, I'll ask Gaia the earth questions and Theo about our lives. Now for some interesting topics of the week that YOU requested, and which will give you a DIFFERENT PERSPECTIVE:

PREDICTIONS FOR 2017—PART 1

THE SEDONA JOURNA OF EMERGENCE in which I have a monthly column announced that they are changing the Predictions Issue so that it will be on newsstands for all of November and December. My Benevolent Outcomes column will only appear in the electronic issues during that time. Therefore, below are new predictions I just received from Gaia, and below those I will again summarize the Elections Probabilities. Next week I'll have part two, as there are so many topics. You get to read them first before they appear in the Sedona Journal!

The highest probability is that we will have a more severe winter. Here is the breakdown for North America from Gaia:

1. The Pacific Northwest?


Yes, Tom, lots of rain as you might suppose, and is normal for them. But the interior will see higher snow totals than normal, and it will be colder not only in the interior but on the coastal cities all the way up into Canada and down to Northern California. You might say it is too much of a good thing.

2. Southern California?

As I stated before, their drought will continue well into next year—in fact the whole year, Tom, and their fire season will easily be the same intensity as
2016 as I continue to burn off the old growth to prepare for new growth. So, warm to hot and dry.

3. The Desert Southwest?

Yes, another fairly dry year, but not quite the same as Southern California. They will have an almost normal monsoonal season, but I am also renewing their forests, so expect their fire season to be almost equal that of California. There will be fires in areas that have not seen fires in some time.

4. The Northern Plains?

Quite cold at times, but the people who live there expect that and are able to cope with the cold, but there will be more precipitation.

5. Southern Plains?


The Southern Plaines will see colder weather than normal as storms barrel down from the north. Expect times where there will be accumulations of snow much higher and more voluminous than normal.

6. Southeast and Florida?

Colder than normal again, Tom, as the cold fronts dip as far as Miami. They need to prepare to save their winter crops as this will be an unusual winter for them and by that I mean colder than normal. That includes the Gulf Coast.

7. North Central Great Lakes?


Their winter will be especially brutal at times, Tom, as this winter will have wild swings in conditions with more Arctic fronts coming down while the ones from the Pacific come across almost at the same time. They will have an especially long winter as I will introduce them to times to come.

8. Eastern Great Lakes?

Almost the same as the central part of the country as the storms this winter proceed to cover them up with a blanket of white.

9. Atlantic Coast?


Stormy and cold, but with more rain. This will be an active winter for them too.

10. New York and New England?

More of the same. The storms will sweep across the East and, yes, up from the South.

I can assure you, Tom, that this winter will be a memorable one for residents as the storms will be larger due to the change in climate, allowing me and, I should say, the souls that assist me in creating larger storms with storm surges.

What is the probability of that happening?

At over 90% at the present time. Take that to the bank, you can say, Tom.

I should add in here that Gaia says she raised the ocean levels of the world two inches in 2015, here in 2016 she says she's raising the levels eight inches, and in 2017 twelve-point-five inches. She says she wants people to move away from the coasts and is giving fair warning.

TORNADOES

What is the highest probability for the number of tornadoes North America will
experience in 2017, below average, average, or above average?

Somewhat above, due to the active weather systems which will be spawned. Just as in 2016, there will be places that will experience tornadoes that have rarely, if ever, experienced them before. Of course, your readers can request "Gentle Rains," as you do, for their own individual areas. And this applies to all weather systems. It is part of your learning curve, shall we call it, that you can control the weather, but the majority of people do not or cannot imagine having any control over the weather just by requesting MBOs or BPs.

EUROPE'S WINTER?

Colder and more snow than has been the case, along with flooding in the
southern sections, but Europe along with North America will experience more extreme times of weather; as you know, I move the systems Eastward across the Atlantic where the warmer-than-normal ocean temperature will allow the storms to regain strength as they approach, first, Ireland, then the UK and finally pushing across Europe. This will be the case for both Western Europe and Eastern Europe, along with cold weather extending to the south. The change in climate allows me to grow these storms or intensify them. Eventually humans—your scientists—will learn how to control storms, just as the Atlanteans did thousands of years ago.

AUSTRALIA?

More or less normal. There will be more rain than normal, causing flooding in
some sections of the country prone to flood. It will be hot again in their summertime—hotter than normal.

HURRICANES FOR 2017

Gaia, what is the highest probability for one or more hurricanes to strike North America during 2017?

The highest probability at this time would be over 90% as it will be a more active hurricane season than you will experience in 2016, keeping in mind at this time you still have more than a month of the potential for more hurricanes.

What is the highest probability for a hurricane striking the Gulf Coast again?


Quite high Tom—more than 75%--and as you saw this year in Louisiana, I don't always need the winds to cause flooding.

Highest probability for a hurricane striking the East Coast?

You can be assured that will occur in 2017 and I might add more than one. There will be more flooding for lower coastal areas as I continue to raise the ocean levels.

Why haven't the scientists or oceanographers mentioned the raising of ocean levels yet?

They don't wish to cause panic as they check and recheck their figures. There is pressure from above not to alarm people, but there will come a time soon when these reports will come to light.

EARTHQUAKES

Gaia, what is the highest probability during 2017 for 7.0 or larger quakes in:

1. North America?

Quite low at this time Tom—less than 10%.

2. Japan?

They will have a number of quakes, but none in the 7.0 or higher category,
but certainly a number below that intensity.

Gaia has previously said that when Japan has an 8.0 magnitude earthquake near where they experienced the 9.0 quake, followed closely by a smaller, but still destructive tsunami, the North American west coast will shortly thereafter experience a number of highly destructive earthquakes. Therefore, it appears that North America is safe for another year.

3. Asia?

Yes, they will have several, shall we say, with a couple quite devastating to
the local population.

4. Europe?

Yes, a couple is the highest probability.

Would that include Italy?

No, although they will experience one above 6.0.

5. New Zealand?

What is the probability for New Zealand to experience an earthquake higher than 7.5 in 2017?

Actually very high, Tom. You might say things are heating up there again and
the 7.1 they [recently] experienced is the start of several of that intensity or higher for 2017. Pressure has been building and they can expect a year of more than one above 7.1 and, yes, even above the 7.5 you mentioned.

Will these be shallower than the 7.1?

No, about the same depth, but they will still be quite strong and somewhat destructive.

Any tsunamis created?

Yes, one. A smaller version, shall we call it, of the one that struck Japan. So, a word of warning to those who read this in New Zealand. Do not tarry on the coast should you experience a large earthquake this year. "Head for the hills" is quite appropriate advice.

6. Australia?

No major earthquakes this year, just your typical rumbles.

ELECTIONS

I've reported these before, but here is a summary:

Let's cover the U.S. Presidential race. I learned the hard way that there are
thousands of probabilities that narrow as we get closer to a given date. As I write this in early September, I'm told that the highest probability is that Hillary Clinton will be the next President of the United States. Donald Trump is a younger soul with a soul contract to learn how to handle great wealth in this life, but does not have the "seasoning" to be the leader of the most powerful country in the world. He will go back to the world of business.

The highest probability is that the Republicans will lose the Senate, but will retain a slim majority in the House. There will still be those who will "drag their feet" and there is a good probability that those on either side of the aisle who will not work together will lose their seats in two years.


An interesting side story here is that Mrs. Clinton was supposed to be the next U.S. President, but I was told that we raised our vibrational levels eight years ago to the point that the first black President was elected. She was elected President on the four lower Time Lines (of the 12) and Barak Obama will be now elected President on those lower Time Lines.

I also asked how she would be eventually ranked, as I have been told that in five years President Obama will be ranked as one of the best U.S. Presidents and thought perhaps she would be ranked somewhere in the middle. But I was told that she will not be far behind the top level, as she will "hit the ground running" with a two-term President by her side, President Obama to offer advice, and a top group of people to assist her in running the government. The highest probability at the present time is that she will also serve a second term.

Next week I'll have Predictions for 2017, Part 2.

MORE QUESTIONS FOR ANTURA

For my new readers, Antura is my "brother on another planet" and a member of my soul group or "cluster" as Theo calls it. Theo introduced me to Antura in 2008, and I was soon to learn that he's had 800 lives on Earth, but is back on our home water planet having a life as an amphibian. You can read much more about him in my book FIRST CONTACT: Conversations with an ET.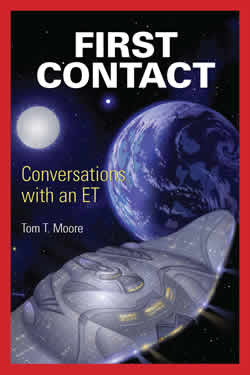 Here are more questions this week.

Antura, have we been visited by ETs from the Proxima B solar system, and if so, were they from the discovered planet or another?

Yes, you have, Tom, but as you suspected, they are not from the planet that was discovered but from another you have yet to identify. Your instruments are just not of sufficient quality yet to identify all the planets in one solar system—even one so close to you. They are working to develop better instruments and more and more planets will be identified in the coming years. You might say a real plethora of planets.

Were they eight feet tall and humanoid?

Yes, but from that basic description they are quite different.

Auntmommie writes: I thought you would be interested in this story I found on MSN:

Not a Drill: SETI Is Investigating a Possible Extraterrestrial Signal From Deep
Space

http://tinyurl.com/z4w4wa7

Is this the beginning of the disclosure?

Antura, is the signal the Russians discovered 95 light years away ET or natural?

Natural, but this heightens the awareness, along with easing the time when the Russians decide to start spilling the beans, shall we say. The government in Russia has noticed that they gain a worldwide audience when they make such announcements along with the fact no one exhibited other than a healthy interest in learning more.

MBOs FOR TRIP TO MT. IDA ARKANSAS

This MBO story and the next one originally appeared last week in my Blog, which you can read in its entirety at http://www.thegentlewaybook.com/blog. Please send me your MBO and BP stories. They will inspire others to try The Gentle Way!

I had a number of MBOs on our trip recently to Mt. Ida, Arkansas (36 miles
from Hot Springs) for a speaking engagement. It had been raining quite a bit before our trip and I was concerned, so I requested an MBO for no rain during our drive and naturally an MBO for the whole drive. Hardly had a sprinkle.

Next MBO happened when we took a winding highway off of Interstate 30 into the Arkansas Mountains. My GPS stopped working as there was no cell phone availability. I requested an MBO to find the right road when confronted with a turn to the left or to the right. I was able to stop at a farmhouse where there was a man and wife out on the porch and asked directions after I took the wrong turn. We were quite happy to see the "Mt. Ida" sign ahead.

On Saturday morning the group was planning to have a brunch up on top of a mountain while they dug for crystals. But the skies opened up and we had a deluge. At least we were not up on top of the mountain with the thunder and lightning. So, we all had breakfast together and I spoke for one-and-one-half hours about Atlantis, Lemuria, and ETs. The next morning, I held a four-hour workshop.

I had also requested an MBO for more people to sign up for the event at the last minute and I got within one person of my MBO request. All in all, it was a nice, pleasant weekend with a super nice group of people.

MBO FOR THE PERFECT CAR

Anne writes from Little Rock, Arkansas: I wanted to thank you again for
allowing us into your presentation at the crystal event. As a follow up, my friend Kathy, who spoke to you about her car being stolen, just had a major MBO answered. The car was found, and had been vandalized badly. Had lots of dents and scratches on outside. Anyway, the insurance totaled the car, which was an MBO answered! We said an MBO to find the perfect car for her and went to a nearby dealership; there, setting on the lot, was a beautiful 2014 Fiat, dark green, fully loaded, and 22,000 mi. on it! Decided right then it was the MBO car of her dreams and she is so happy with it.

SUPERSTITIOUS SHOE

Kathy writes: I find this fascination with superstitions. At the University of Cambridge, they found a shoe that is 300 years old in the walls to ward off
evil spirits. Could you please tell me what a shoe would represent and where did this tradition come from?

Theo, when did the superstition of putting a shoe in the walls of a building to ward off evil spirits originate?

It was one of many superstitions that originated in the middle ages, Tom. It was believed that the leather in the shoe would be the same as kicking the evil spirits away.

MORE ON ANNIE OAKLEY'S SOUL FRAGMENT

Theo, you previously mentioned that the soul fragment of Annie Oakley was again active in women's rights in this incarnation. Would we recognize her as
a public figure?

Quite so, Tom. There are a number of women working for their rights, so I will not try and name her for you, as you're not familiar with most of these people.

Is she living in the west or elsewhere?

She is not living in the west. She has taken on a harder job or soul contract in a country where women are much more controlled by men.

Then she is not the lady in Myanmar?

No, but a good guess.

ALBERT EINSTEIN


Theo, is Albert Einstein incarnated now, and if so, is he known?

No, his return will be just a little later, Tom. He will again become known as he will carry on his theories, but building on the knowledge other scientists have gained since he transitioned.

http://tinyurl.com/l2gfvgv

SHUNGITE GOOD HEALING STONE?

Barbara writes: Can you please ask Theo if Shungite is a good healing stone
and also if it is a good EMF protector? I have been using a protective plate for my phone, computer, wifi router, etc. I also use a Shungite pyramid in my bedroom.

Theo, is Shungite a good healing stone, and possibly a good EMF protector, or is there something better?

It is a good healing stone, Tom, but a serious investigation will discover equally powerful healing stones and EMF protectors should a person wish to study in that area. Each stone has its limits; I will give you that hint, as Gaia likes to say. One must have a passion for studying the effects of these stones.

SPECIAL NOTES:


If you are new to requesting Most Benevolent Outcomes (MBO's) and asking for Benevolent Prayers (BP's) for other people, you may also wish to SIGN UP FOR MY WEEKLY BLOG, which has nothing but GREAT MBO stories from all over the world. I typically post this one day after the newsletter goes out. And have you requested that I be your FRIEND ON FACEBOOK yet? Please do so. I do give extra information there. I also post on TWITTER.

If you know of Expos or groups looking for FEATURED SPEAKERS, let me know, or have them contact me. And if you listen to any good TALK RADIO SHOWS that you have not heard me on yet, let me know about them.

THE GENTLE WAY BOOKS

Don't forget that ALL THREE GENTLE WAY books are NOW AVAILABLE as Ebooks on Kindle and other services! The books are great for presents for family and friends for birthdays and other special occasions! All three books can change lives!

REMINDERS:

BLOG: For those of you who are just learning about requesting Benevolent Outcomes, I have a weekly Blog now with information and stories sent from all over the world about using this amazingly simple, yet powerful spiritual tool. The link is www.TheGentleWayBook.com/blog .
TWITTER: You can now follow me on Twitter @TomTMoore33 .

http://www.TheGentleWayBook.com --Great resources: Sign up here for the newsletter. Sample Chapters of the first book, videos, Signs, Articles, Archived Newsletters, and more!

FACEBOOK: You'll find me here: Tom T. Moore6 or the book page at http://tinyurl.com/c6r7fjh . Let's be friends!

BOOK EDITOR: Need an editor for your upcoming book? Email me. Ralonne edits my newsletter and edits books.

Keep sending those success stories in, as they inspire others to live THE GENTLE WAY!

Expect Great Things!
Tom
Tom T. Moore
TomTMoore6@aol.com
TheGentleWayBook.com
7000 Independence Pkwy. STE 160-7
Plano, Texas 75025
United States